Case Study

Recovering Lost Traffic
How we helped mightymoms.club turn around from losing traffic to jumping 36%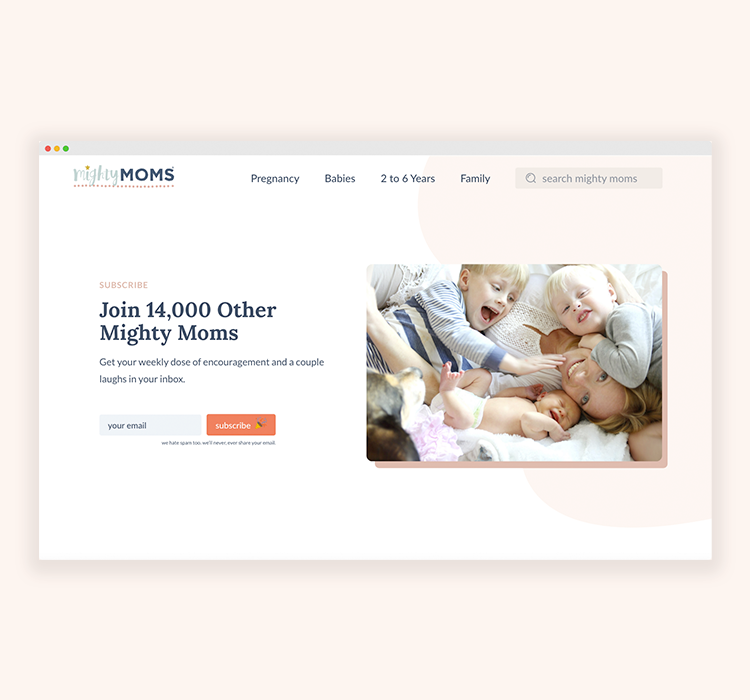 Mightymoms.club is a content/affiliate site where they write about parenting, pregnancy, childhood, and motherhood.
In early 2018 Mightymoms.club began to steadily lose traffic and saw fewer visitors month over month.


The traffic loss was significant as Mightymoms.club went from an average of 300k-400k visitors per month to < 100k visitors per month. Here's how Biz Rocket responded to the situation.
Traffic loss analysis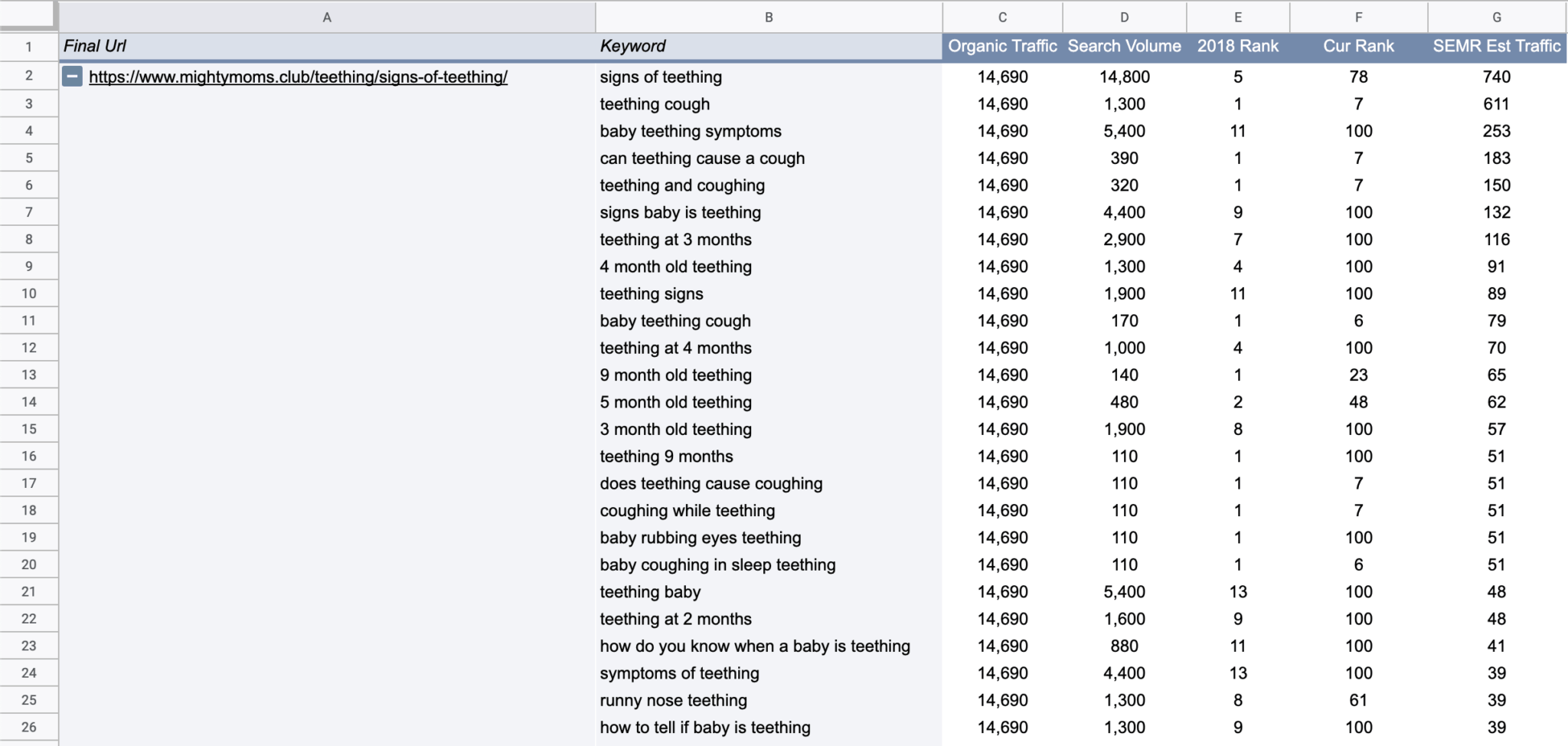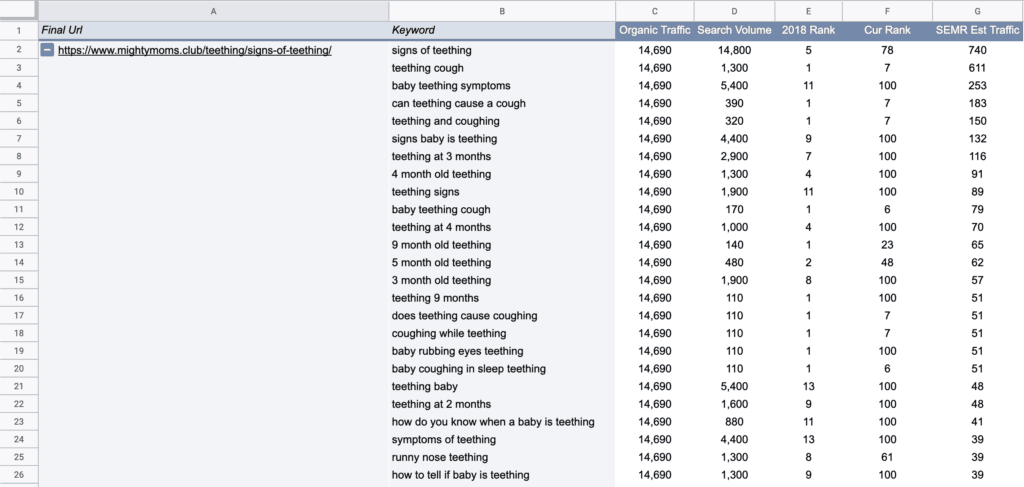 In our traffic loss analysis we took data from two sources:
SEMRush for historical rankings – Which keywords did they rank for during peak traffic in early 2018 Vs January 2020?
Google Analytics – What was the actual organic traffic for the date ranges we are comparing?
After a whole bunch of spreadsheet magic and number crunching, we produced a pivot table that provided some really powerful insights.
What we learned from this report
Where did our traffic go? – We could see which keywords we no longer ranked for and how much traffic that page was estimated to have lost in result.

We identified a pattern in the types of keywords and pages that saw the largest drop in rank/traffic – health related keywords and content. Some of Mightymoms.club's content was focused on providing health advice for both mothers and their babies.

We also learned that the top 4 pages in terms of traffic accounted for over 40% of the website's entire traffic. That means that we need to make peace with cutting off at least 40% of our current traffic in the belief that eliminating this content will restore the website back to good standing with Google.

We identified a corresponding Google algorithm update that we suspected had a large role to play. The update had to do with what Google calls E-A-T (Expertise, Authoritativeness, Trustworthiness). While the content on MightyMoms.club was fantastic in terms of quality and relevancy, Google did not see the author as a credentialed expert on health.
What we did next
Biz Rocket identified all of the pages that seemed to be targeted by Google for having health focused content and we archived those pages.
We then waited for the next Google algorithm update, and luckily for us that took place in early January 2020 which was less than a month later. The reason why we waited for the update is because Google will perform a site wide re-assessment. This is when you can expect to see the biggest change in your traffic.
The results were amazing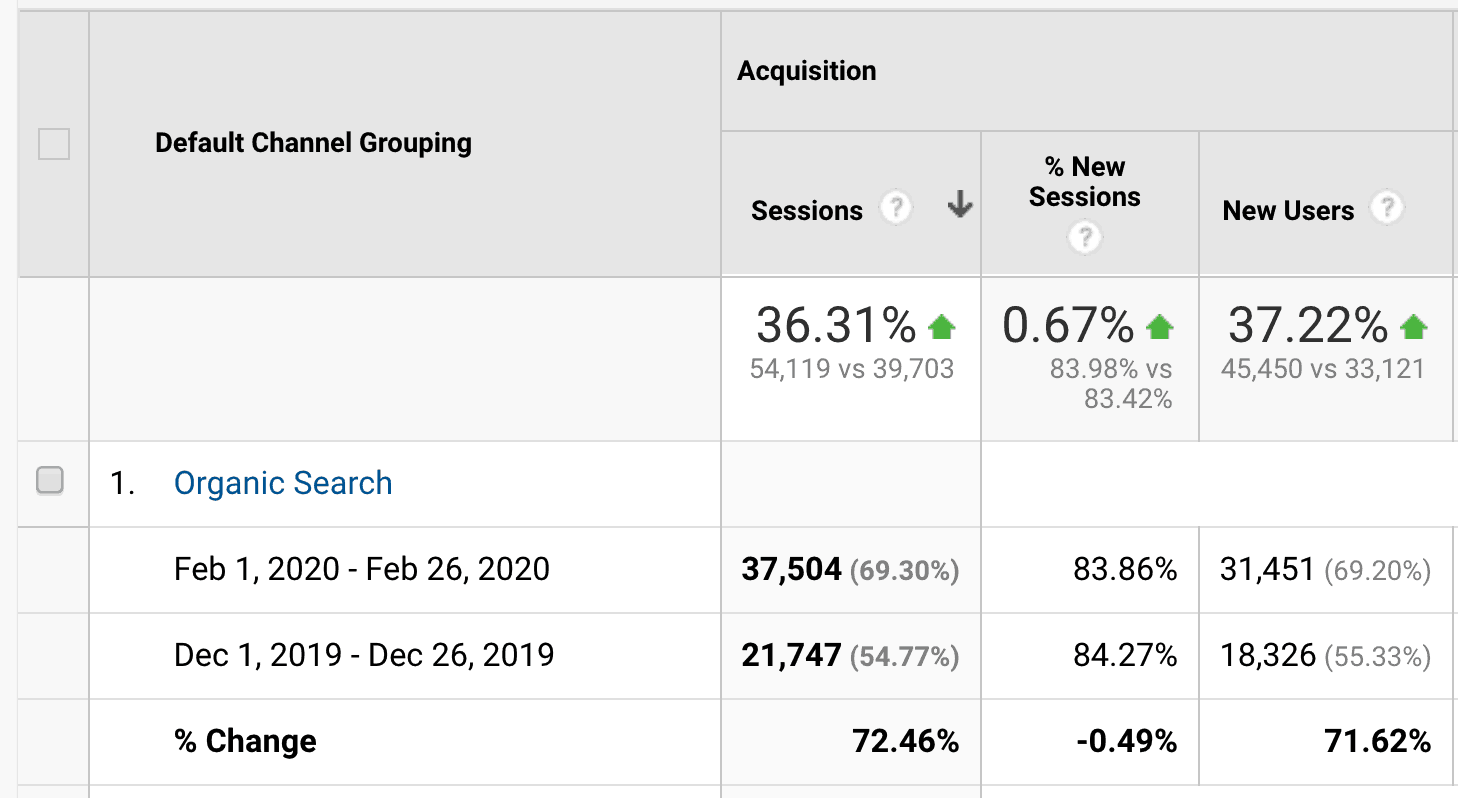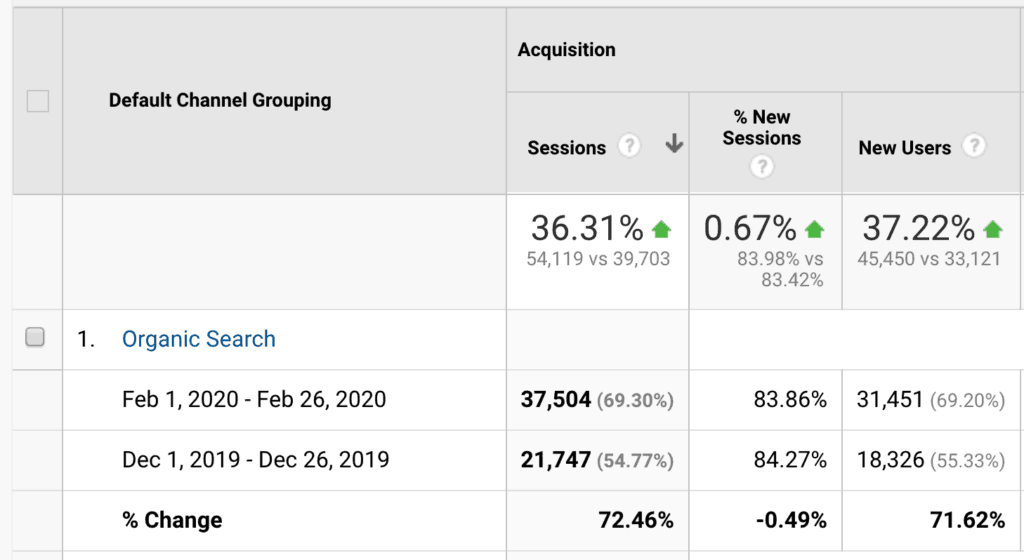 This data shows the organic traffic for the entire website comparing the current month of February and December (the month prior to the algorithm update). Mightymoms.club is performing 36% higher just after removing the offending pages.
What's next?
Now that we've solved the reputation issue that we had with Google, we can start to address other issues that were gleaned from the report.
Content that needed to be updated to be more relevant
Content that was written poorly and just needs to be improved
Content that needed a better backlink profile – maybe needs more internal links
Etc
For all of the pages that remained published, we began by sorting those by highest organic traffic. Then we looked for high volume search terms that we were losing our grasp of.
Prioritizing opportunities
We don't want to waste time going after keywords that we no longer rank for, but rather keywords where we lost our rank by less than 10-15 positions.
There's little value moving from the bottom of the second page of Google to to the top of the second page. There's just too little traffic to share once you leave the first page. In fact, many SEOs have done their own studies on this. We know that there's a significant spread in traffic share across just the first 5 positions on the first page of Google.
| Position | Traffic Share Estimation |
| --- | --- |
| 1 | 33% |
| 2 | 17% |
| 3 | 11.5% |
| 4 | 8% |
| 5 | 6% |
So working to move a page's rank from position 5 to position 2 could result in more than a 10% increase in traffic.
To be continued
We'll update this case study as we roll out and track additional changes to Mightymoms.club's content strategy.